Special Customization
Finger Rest (Tang) Removal
One of our customer likes KORYU 507  6.0 inch.
But she did not like to have a finger rest (tang) on it.
Before processing:

After processing: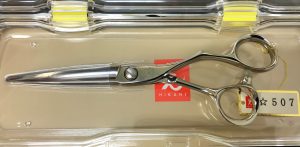 HIKARI has equipment to fulfill various request from customers.
Making finger ring larger or smaller…
Making blade longer…
Making handle longer / shorter…
Changing handle parts to other model…
If you have any request about your HIKARI scissors, feel free to contact us.