HIKARI Online Store is now Available
Dear Valued Customers,
We would like to inform you that our online shopping website is now available.
This is a pre-order store. All orders will be shipped when the item is available.
If you would like to know more about delivery or have questions, feel free to contact us.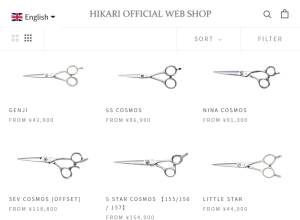 The shopping site is for country where we don't have our authorized distributor.
If there is an authorized HIKARI distributor in your country, you cannot check out any items here.
The delivery is currently available to below countries:
・United Kingdom
・Spain
・France
・VietNam
・Netherlands
・Italy
If you wish to purchase our scissors and the check-out is not available, feel free to contact us to make it available.
Purchase will be unavailable when we find a distributor there.